Yemen: During military parade,suicide attack 63 killed.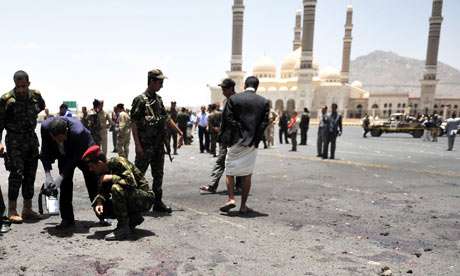 In Yemen Capital Snaa near the Presidential palace rehearsal of the military parade in a suicide attack at least 63 people have been killed.According to the information and attack was dressed in military uniform.
An
unconfirmed
number of people
reported
killed
is
ninety three.
President
Abdul
Mansoor
hady
alrb
frruy
in
Yemen
in
power
after
holding
the biggest
attack
in
the capital
snaa
.Eye witnesses said that Snaa alsbyn ground during the military parade photocopies of the attack on the ground after the human body parts loose.Immediately after the explosion at ambulance arrives in the injured to the hospital and begun

the day National alliance. In Yemen in 1989 participation of South Yemen Yemen Arab Republic, participation in Yemen on the anniversary is celebrated.of last week abyan town of preposition in clashes in the least Thirty-three extremist and 19 military officials were killed.